Welcome to Olympic Bible Fellowship!
"For Ezra had set his heart to study the law of the Lord, and to practice it, and to teach His statutes and ordinances in Israel." ~ Ezra 7:10
Olympic Bible Fellowship is a non-denominational church, which holds no organizational ties nor any denominational affiliations.
Sunday Morning Service:
10 am Worship Service
Olympic Theater Arts Building
414 North Sequim Avenue
Sequim, WA
(360) 683-6731
Sunday School for 5th grade and under begins at 10:30 a.m.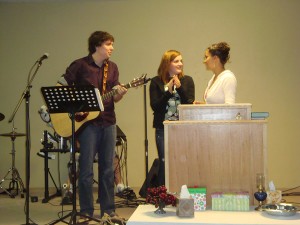 Join us for the morning coffee fellowship which follows worship in the fellowship area.
Come join us for Easter Sunday Services!  We welcome you!!
Experience the Passion of the Christ.
Experiencing the Passion at Sequim Bible Church, Thursday & Friday, any time from 12:00-7:00.
More Information>>>
---
Listen to the Pastor's Recent Sermon – Nov. 25, 2012 Sermon – Pastor Rich Hay
---
Ongoing Events
Sunday Evening
5:45 – 7:30 p.m. – Ages 3 through Grade School meet for Awana during the school year at the Community School Gym. Check out the Awana Tab for more information and upcoming happenings.
Tuesdays
10 a.m.- 12:15 p.m.- Precept Bible Study on Daniel at  Dungeness Community Church, taught by Diana Hay.  MORE INFO>>>
7 p.m. Young Couple's Bible study.
Wednesdays
7 p.m.  – Prayer meeting at the Saffold's.
Thursdays
7 p.m. -  Fellowship and Sewing SOAR Baskets/Stockings at Linda Livingston's, 631 River Road (SE corner of River Road & Silberhorn). All are welcome.
Fridays
7 a.m. – Men's Breakfast at Mariner's Cafe.
6:30 – 8:30 p.m. Middle School/High School Youth Group at the Hay's.
---
---
Recent Events
Dec. 30,2012 – The Christmas play by the OBF children, led by Sharon.
---
History…
Olympic Bible Fellowship began in the spring of 1994 with a group of five families in a home fellowship who recognized the leading of God to establish a church in the Sequim Dungeness Valley.
Olympic Bible Fellowship called a pastor, and began meeting at the Dungeness Schoolhouse on Nov. 6th, 1994.
We are a non-denominational church, and hold no organizational ties. We do not hold to any denominational affiliations.
We have been meeting at the the Movimiento Evangelistico Agua de Vida Church, (aka the "old" Calvary Chapel), 261913 Highway 101 just west of Sequim through November 2012.
In December 2012, we moved our services to the building on Guiles Road in Gardiner, WA.
Dec. 2, 2012 – Our first service held at the current "Gardiner Community Chapel" – what a lovely building!
.
In January 2013, we moved to the Olympic Theater Arts building in downtown Sequim.